The secret to a good swimsuit is simple. You will have found that rare gem when you are comfortable inside. For the choice, it depends on your morphology in women and on its use in men. Find your happiness with these few tips and tricks when making your purchase.
Select a swimsuit for women according to the morphology
Morphology in A
It refers to a person whose shoulders are narrower compared to their hips and thighs. The idea would be to find a swimsuit that will attract the eye to the bust by focusing on patterns, volumes and colors. Choose a model with thin straps to show off your slender shoulders. For the bottom, you have to stay sober or choose a bottom with ruffle.
V-shaped morphology
The body represents an inverted pyramid i.e. broad, square shoulders against narrow hips. It is therefore necessary to focus the gaze of others towards the lower body, highlighting the legs, thighs and hips. For the top, opt for a swimsuit with wide straps to tie around the neck in order to properly support the chest. For the bottom, high-waisted panties embellished with frills or ruffles will bring more volume.
Morphology in O
This morphology designates a round person. To camouflage a thick waist and a round stomach, opt for a dark-colored one-piece swimsuit. A model made with a sheathing fabric would be welcome if you can handle the pressure it will exert. A high neckline will hide the curves perfectly. If you are pregnant, you can also go for the trendy pregnancy tankini right now.
The morphology in H
It generally corresponds to the silhouette of a tomboy ie the shoulders are aligned with the hips. A two-piece swimsuit can therefore bring a touch of femininity to your outfit. Do not hesitate to choose a bi-color model to fool the eye. A push up bikini will highlight your chest and a high waist low will break the thickness of your hips.
The morphology in X
It is the ideal silhouette for wearing a swimsuit. Indeed, all models one or two pieces are allowed with this type of morphology. Do not hesitate to choose a swimsuit marking your thin waist, highlighting your beautiful chest and shaping your buttocks.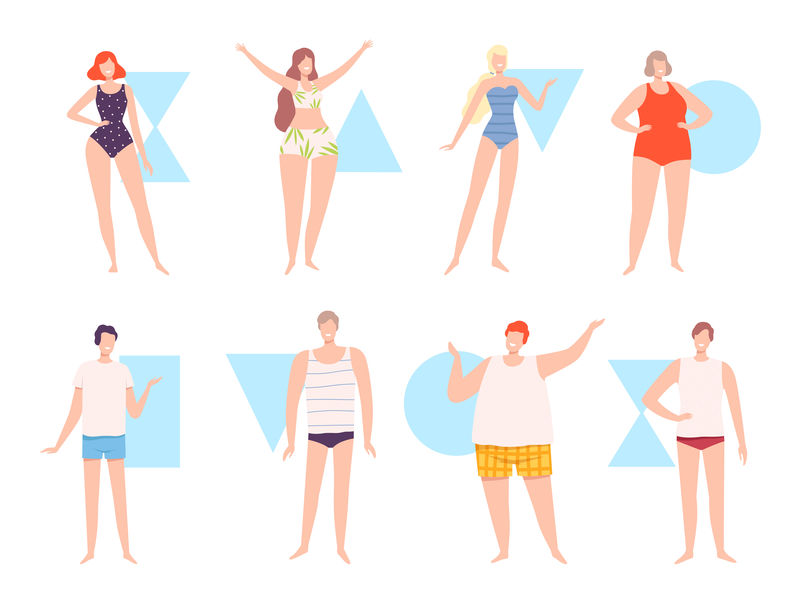 The best choice for men's swimwear
For men, the choice is easier because each swimsuit is intended for a specific use.
Swim shorts
This swimwear is mainly worn at the beach. It is recognizable by its polyamide fabric most of the time and by its length which reaches mid-thigh. Versatile, it is suitable for all body types and all age categories.
The swim briefs and boxers
These two swimsuits are the regulatory outfits required to be able to swim in a swimming pool. They are very comfortable and highlight the user's body.
The boardshort
This swimsuit is reserved for lovers of water sports such as surfing. These shorts, the length of which arrives above the knee, effectively protect the legs of the athlete during his sessions at sea. Its waist does not include elastic but a scratch and a drawstring, less easy to detach in the face of the pressure exerted. by water.
Call on a consultant to choose the swimsuit that matches your body type
For every body type, there is a swimsuit that flatters the figure. If you don't feel comfortable with a swimsuit you've chosen, it's probably because it's simply not for you. We know that it is sometimes difficult for many women to find themselves in a swimsuit in the summer. Therefore, if you are looking for a swimsuit to hide curves, you are advised to seek advice from a professional who will know exactly what type of swimsuit you need.
After all, fashion can't be invented. And you also want to look stylish by the sea or by the pool, right? So to feel good about your body, take the advice you need to be sure to find the swimsuit of your dreams. The one that you like, obviously, but also the one that will be able to magnify you, and in which you will feel confident and beautiful. This swimsuit exists, you just need to take the time to find it.